Working...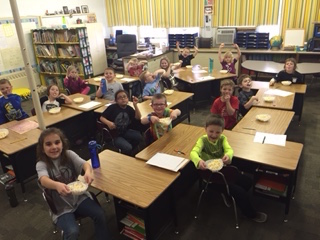 Popcorn! We finally earned a popcorn party! They worked for each letter by listening well during all core classes and working hard during writing.
Our focus for the week has been the letter clusters er, ir, and ur. They have also learned that the letter e is dropped when you add the suffix –er and –est. The children are improving on their retelling skills as well as answering their test questions by using supporting details from the story.
In math they are learning strategies for doubles plus one facts and for adding and subtracting 'bigger' numbers.
Adjectives have been the main focus in grammar. We made an ABC chart in writing, which required the students to work in a group to think of adjectives for each letter of the alphabet.