Working...

The first graders have been learning how sneaky 'e' can change (or actually scare) the vowel sound from a short to a long sound. They have been reading words with the soft c and g sound. The children have already learned the digraphs ch, wh, and ph, but were now expected to apply that knowledge when reading new words. The trigraph 'tch, which comes only after a short vowel sound, was taught before Christmas break.
In math, adding 2 to any number was the main focus. They also discovered things that come in pairs and enjoyed having me stand on their desks to make an impression of what a pair was! Graphing the pieces used in a design was also discussed.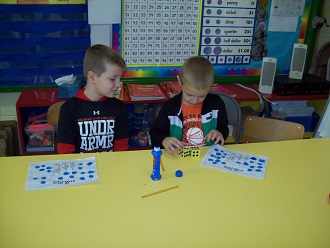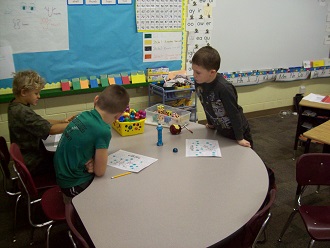 Our last week of school before break was filled with various activities. We made stained glass windows and poinsettias. They used ink daubbers to mark off numbers in a math game. The children enjoyed playing Christmas pictionary and they watched a video called, "Disney's Tigger and Pooh Super Sleuth Christmas movie," which was fantastic.